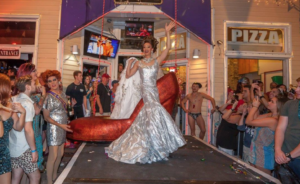 The New Orleans House is an integral part of the gay scene around Duval Street, which is considered the lifeline of Key West and is located in the heart of the old town.
The advertising slogan of the New Orleans House "the only all male gay guesthouse on Duval Street" attracts many visitors, because from here you are only a few steps away from all the offers.
Key West offers a wide variety of shops and art galleries as well as an exciting nightlife and many other types of entertainment.
At the Bourbon Street Pub on the same site as New Orleans House you will find
many different parties with live entertainment all year round. Here you can see the best male dancers of all Florida Keys, the original and only video bar of Gay Key West with the "Men Of Bourbon" Nightlys, live VJs, live shows, 5 bars and the "MALE ONLY" Clothing Optional Garden Bar with pool and Jacuzzi.
Some guests stay in rooms above the Bourbon Street Pub! Please note that some of the rooms in New Orleans House are above the dance floor. If you want to go to bed early, you should therefore book a quiet room early, of which there are also some. The night-active definitely get their money's worth. Here, the parties often run until 4 o'clock in the morning.
A typical day, the guests start with a continental breakfast that is served on the big balcony with a view to the Duval Street. Then it's time to bask in the sun on the private sundeck overlooking the pool and adjacent Jacuzzi (men only *).
Although the garden bar by the pool is open to the public, the entire pool area is equipped with optional clothing and is reserved for men only *.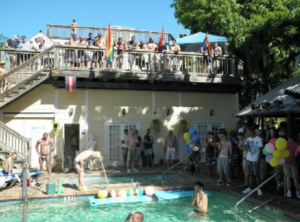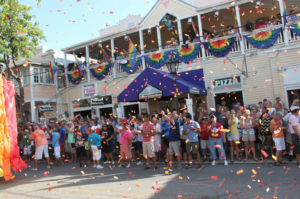 New Orleans House also offers guests a gym, free Wi-Fi Internet access, free happy hour every night, breakfast every morning, free access to the Bourbon Street Pub and Drag Shows at 801 Bourbon and access to the large balcony overlooking festive Duval Street.
Reservations for Fantasy Fest and New Year's Eve cannot be made online. Please contact the Guest House directly for bookings.
* On Tuesday evening from 17.00 hrs is "Ladies Night" at the garden bar. This weekly event is open to women, while the upper sun decks are reserved for men only. The Friday Tea Dance is also an all-welcome dance pool party from 5 to 8 pm.
Adress for BOOKING and more information: